About Grooveline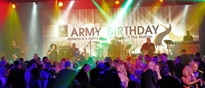 The Grooveline rhythm section has been together since high school providing over 30 years of musical partnership. The remainder of Grooveline has been performing together for nearly 15 years providing entertainment for hundreds of corporate events, weddings, fund raisers, private parties, bars, restaurants, and a variety of other events.
Why Grooveline is different
One factor that differentiates Grooveline from many other bands is that all of the members of the rhythm section have a degree in music. Several of the Grooveline band members are full-time musicians as area band directors, highly sought after session musicians, and experienced instructors for private lessons.

Grooveline takes the time to create "charts" for the music they perform allowing all of the musicians learn the nuances of each composition.
Music Samples
Enjoy these MP3 music samples from Grooveline
---
Grooveline Video Samples
Check out Grooveline on Social Media. Visit us on the Grooveline Face book Site and check out our videos on Youtube.
Check out a few samples of Grooveline's music by selecting one of the video files below.


Checkout the Grooveline Videos on YouTube.
---
Grooveline Promotional Video
---
June 16, 2012 237th Army Ball Washington DC
---
Wedding at the Hotel Baltimore
---
The members of Grooveline have been playing together for many, many years. Between event band gigs, the rhythm section decided it would be fun to get back to their roots and play in bars and restaurants. The band created a second project known as Grooveline Funk specializing in classic funk, soul, and rock music.
The Grooveline rhythm section started playing together in college and had such a great time playing, they have been playing together ever since. In fact, the drummer, Guy Stevens, and the guitar player, Scott Ready, have been playing together in bands since high school. The principal portions of the rhythm section came together in college as a talented group of musicians who got together just to jam. People liked the band so much that before they knew it, the band was in high demand. While each of the players has pursued other musical activities to stretch their musical boundaries, performing together in Grooveline has always been the centering point for this group of talented musicians.
Back in the day, the boys rented a house in Arlington to refine their musical craft. Rehearsing three nights a week and playing clubs nearly every weekend,the band began to play hundreds of gig over the years performing original and cover music at bars and colleges. For over ten years, the band played as many as 45 weeks a year developing a strong and loyal fan base. But as is always the case, time moved on. Eventually, each of the band members got married, had kids, you know the story. Until one day they all decided it was time to get the band back together. After a few months of rehearsal, the band had well over 300 songs ready to perform. What the band really needed was a great entertainer to front the band. Luckily, the band was able to lock in Stuart Fitzgerald on lead vocals. Stuart provided the funky soulful lead vocal qualities the band had been seeking. Stuart combines his powerful vocal style with a cool funky presence that perfectly matches the tight grooves this band lays down every time they play.
Get out to a club near you and see Grooveline in action. You'll be glad you did!
---
January 25, 2013 Velocity 5 Sterling VA
---
December 01, 2012 Velocity 5 Sterling VA
---
July 27, 2012 Fat Tuesday's Fairfax, VA
---
July 27, 2012 Fat Tuesday's Fairfax, VA